Share this post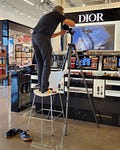 "Divorce is 100% success rate." – Adrian Wilson
markarinsberg.substack.com
"Divorce is 100% success rate." – Adrian Wilson
Citizen44 with Mark Arinsberg / Episode #108 / Adrian Wilson / Part 1
Hello!

The link below is to my Annual Fundraiser for the Citizen44 with Mark Arinsberg podcast, a listener supported presentation. The fundraiser ends in 15 days and I am nowhere close to where I need to be.
Mark https://www.paypal.com/pools/c/8MK6nrqOBs.
Please consider supporting the show and the man behind what it takes to make this all happen. Thanks so much in advance for your generous support. It is deeply appreciated as always.

Much love,
Mark
__________________________________________________________________________
Citizen44 with Mark Arinsberg / Episode #108 / Adrian Wilson / Part 1
A self proclaimed black sheep of the family, Adrian went to great lengths to separate himself from his father and two older brothers who dominated the world of graphic design in Manchester, England. Unfortunately, Adrian was unsuccessful in doing so only to find himself as distant as making interior photography his primary calling card, but becoming more well known than his father and siblings for his graphic design work. A world traveler with blue chip clients like Apple and Victoria Secret, Adrain would move to New York and later find himself as a single father in the grips of raising two teenagers. Oh yeah, he's also a well-known guerrilla street artist.

Links:
https://www.interiorphotography.net/
https://www.instagram.com/interiorphotography/?hl=en
https://en.wikipedia.org/wiki/Adrian_Wilson_(artist)
__________________________________________________________________________
Buy Peace and LOVE from Vietnam the Photo Book for only $89.00 (includes shipping anywhere in the US)
http://www.markarinsberg.com/photo-books.html
Make a $200 donation (or more) and get the book for FREE!
https://www.paypal.com/pools/c/8MK6nrqOBs
Blue Dragon Children's Foundation
https://www.bluedragon.org/
Citizen44 with Mark Arinsberg
A native of Southern California now living in Saigon, Vietnam, Mark brings his unique world view and razor-sharp sense of humor to the virtual air waves while presenting real people and their stories. His podcast is engaging, honest and often inspiring. Mark is also here to explore ways to eliminate the avoidable suffering and discomfort associated with living amongst seven billion ill prepared people faced with inescapable death.